Phylosophy
Ho Hsing Lime Factory have so far been more than 45 years in Taiwan, we have accumulated decades of credibility and experience the latest technology and equipment, fully automated mass production of various specifications of quicklime and hydrated lime, the Company will continue to uphold the "customer satisfaction as the company never continued operation of the concept", continuing technological innovation to provide customers with stable quality and comprehensive services.
Quality Policy
Quality policy is the real spirit of continuous improvement in the quality of our products, the company prepared in accordance with this policy at all stages of the quality objectives to ensure the quality of our products to meet our customers' expectations, as the company's quality management system to the operating performance.
▾Ho Hsing Lime got the ISO-9001 quality certification of KEMA in 1999 .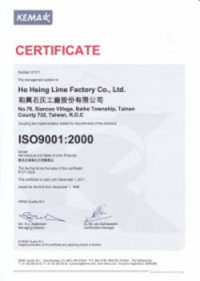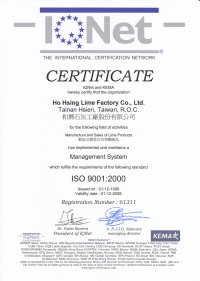 ▾2010-10-06,Quality Certificate up to ISO9001:2008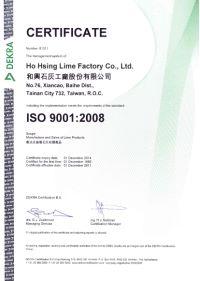 ▾Qulity Management System Auditor issued by SGS,2009